Green Building
Energy efficiency and environmental stewardship are among David Coulson Design's core values. Check out some our environmentally responsible, green build projects below.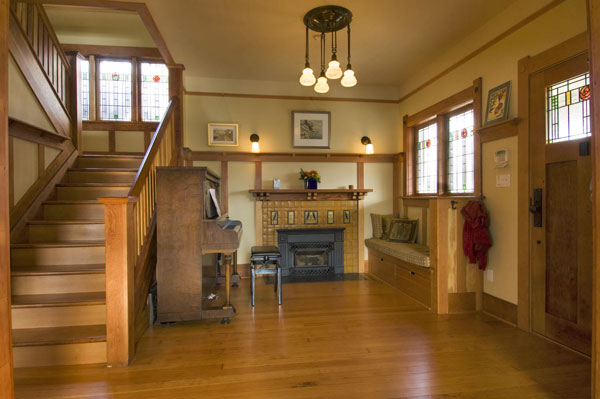 Green Heritage Renovation
90% of the original wood trim in this 1910 home was stripped with citrus-based solution and restored in situ. The 100 year old house now uses geothermal and solar heat source technologies, and is equipped with photovoltaic cells for future service enhancements.  This home has been presented by the Government of BC Heritage Branch as a case study in green upgrades to heritage architecture.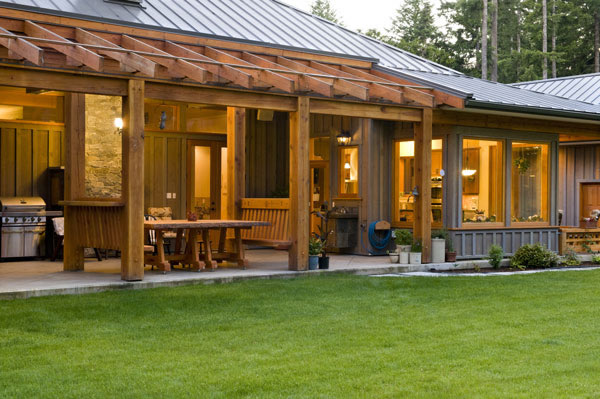 North Cowichan Custom Build
Douglas fir trees were reclaimed from and prepared on site to build this soft-footprint home, meaning zero fuel use in materials transport. Simple rainwater chains are also put to good use here, directing fresh rainfall from the roof to thirsty garden beds and planters. 580 lineal feet of ground source heat pump lines surround house.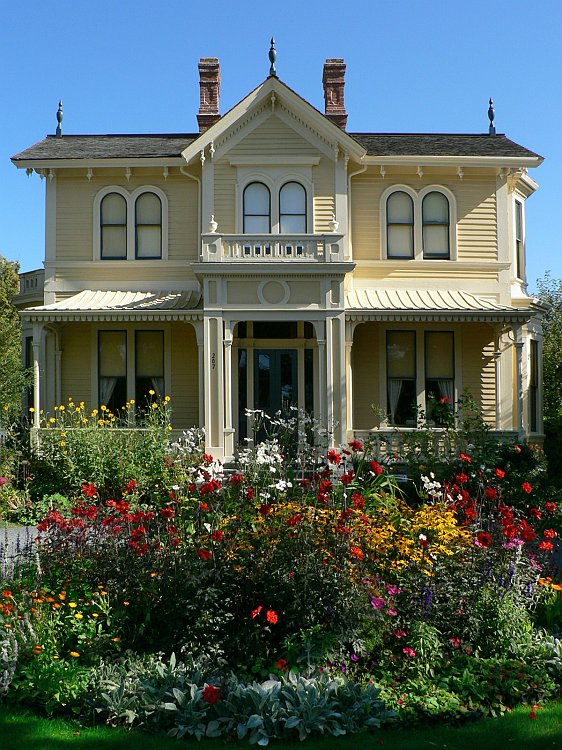 Heritage site becomes sustainable; energy upgrades complete at Emily Carr House
Improvements to the Emily Carr House in Victoria's historic Inner Harbour included adding storm windows, updating hot water tanks and sealing the attic, crawlspaces and un-insulated walls to help keep heat inside. "All these small improvements add up to the site being much more energy efficient and durable into the 21st century," said Jan Ross, of Emily Carr House. "This property is not only a monument of a great artist, it is a chance for us to continue the legacy of inspiration provided to us by Emily Carr, and these upgrades will help us to do just that." Emily Carr House is a designated national historic site that requires improvements to be in keeping with the original structure.
'Built Green' – 'Platinum' Rating for Marshall Road Residence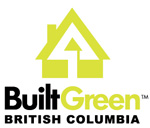 David Coulson Design's first registered 'Built Green' project on Marshall Road achieved the highest level of certification within the program– Platinum! They have since designed and built several residential and commercial project to the Built Green standards, enhancing the value of their clients' properties while holding the companies values on building sustainably whenever and wherever possible.
'Built Green' British Columbia is managed by the Canadian Home Builders Association of BC. The program requires more than the minimum standards established by building codes. It promotes sustainable new-home building practices that gives homeowners the ability to make smart, healthy energy efficient choices for their homes and families. Built Green is about teaching builders how to use the latest technologies in building materials, which ensures a home has lower environmental impact, higher durability and increased comfort. The program is monitored by certified Energy Advisors to assess the effectiveness of the systems installed in Built Green homes. For more information visit www.builtgreencanada.ca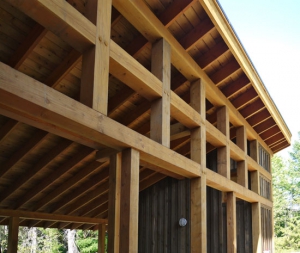 Natural Resources Canada 'EnerGuide Rating System' is also part of the process. The scale ranges from 0 to 100. For example a '0' on the scale would be a very uncomfortable house with major air leakage, no insulation and high-energy consumption. A rating of 65 for an older home would be quite an achievement. A new home typically receives a rating of 65 or higher and very few houses achieve a rating of 80 or higher. David Coulson Design's  Marshall Road project achieved an energy efficiency rating of 84, which is excellent and means this house is one of the most energy-efficient houses on the market. This means it is well insulated, well ventilated yet air tight, and follows most of the recommendations set out in the program.